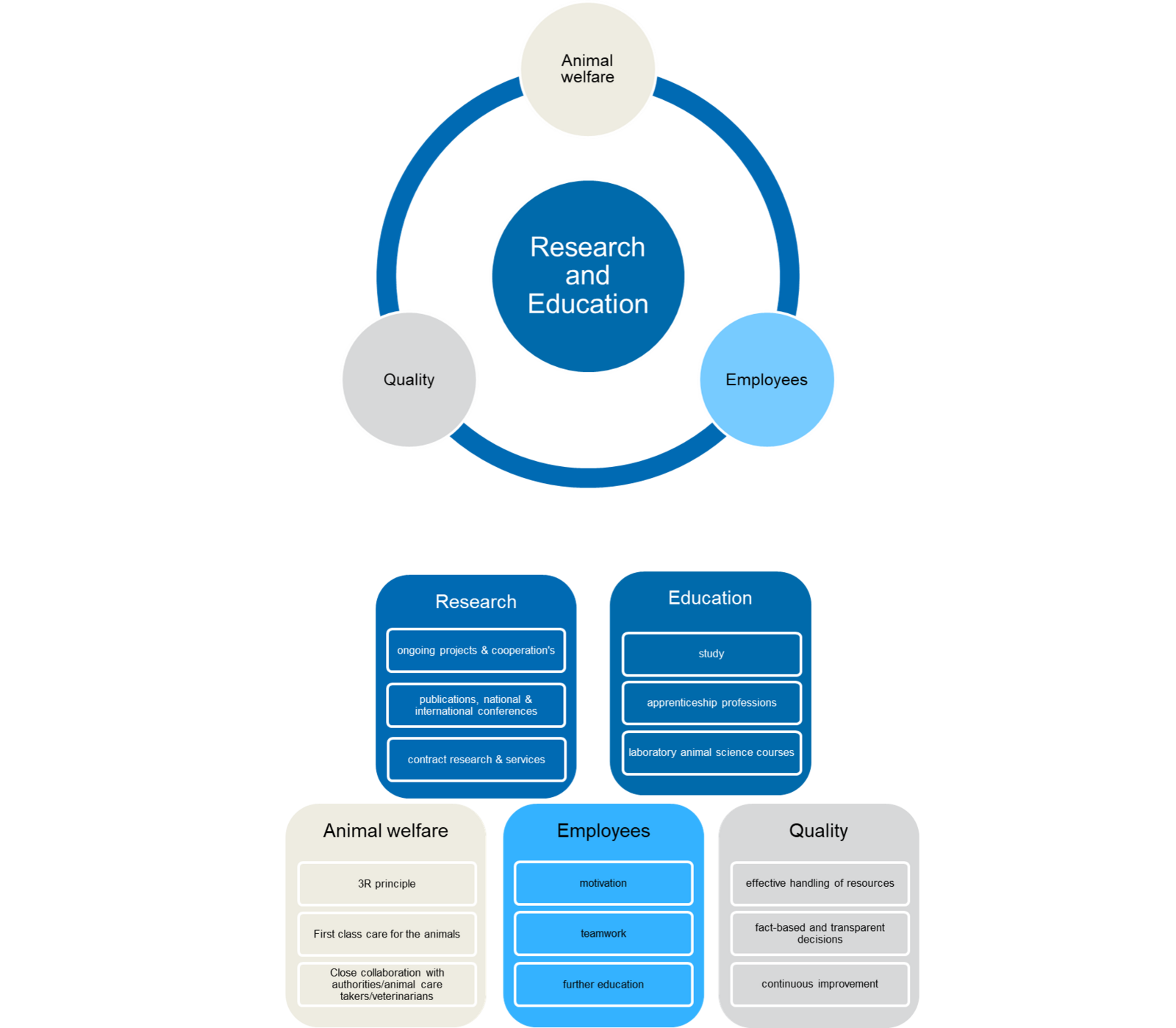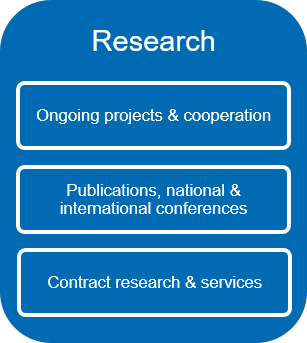 Ongoing projects & cooperation: The Institute's projects are focused on research into physiology and nutritional physiology. In this sense, our aim is to investigate the relevance of physiological and pathophysiological mechanisms not only for veterinary medicine, but also in animal models, for the environment and translational studies in the sense of the "One health" concept. Our network of interdisciplinary collaborations at national and international level allows us to broaden our expertise and discuss research topics and issues in detail. "Research"
Publications, national & internationel conferences: Publications of original papers, reviews and abstracts in peer-reviewed journals are part of our daily tasks. The members of the Institute are also involved as authors in the production of textbooks (Physiology of Domestic Animals, Neurogastroenterology). In addition to organising conferences and symposia on site, the Institute offers staff the opportunity to actively participate in national and international conferences. "Publications"
Contract research & services: The Institute for Physiology and Cell Biology is available to (veterinary) doctors, the public and industry with its expertise in the field of nutritional physiology and neurogastroenterology for specific questions and problems. We also support research companies and the research-based pharmaceutical industry. We are happy to provide our models and methods, but also our assessment for scientific questions or for testing the mode of action and effectiveness of pharmaceuticals on gastrointestinal functions.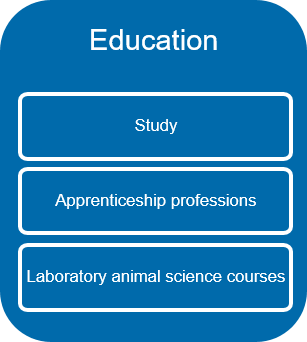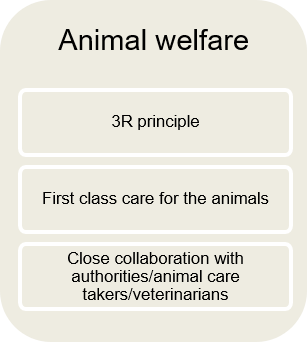 3R principle:
The aim of the 3Rs principle is to completely avoid animal experiments (replacement) and to limit the number of animals (reduction) and their suffering (refinement) in experiments to the indispensable level. Together, we consistently implement this concept and see it as the basis of our actions. For the effective implementation of this concept, our animal care taker Yvonne Armbrecht was awarded the European Refinement Prize in 2019: ec.europa.eu/growth/sectors/chemicals/european-partnership-alternative-approaches-animal-testing/3rs-awards_en
First class care for the animals: For the care of the animals, we have well-trained and motivated staff constantly undergoing further training and development. All our animals receive an individual acclimatisation and training programme (medical training). For possible treatment, we have the most modern methods and intensive cooperation with the clinics corresponding to the animal species at our disposal.
Close collaboration with authorities/animal care takers/veterinarians: In order to ensure that everyone involved has access to essential information at all times, our institute has developed a communication system that includes all persons, so that neither information nor events are lost.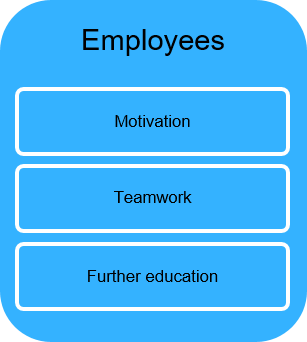 Motivation: In our team, motivation is the key to success. Through constant appreciation and room for personal development, our employees are always motivated to achieve optimal results in the areas of research and education. Flat hierarchies ensure a constantly pleasant working atmosphere with a positive influence on the intrinsic motivation of all team members.
Teamwork: Complex issues and the handling of challenging tasks often make teamwork indispensable. By combining competences from different fields and disciplines, we are able to successfully solve even the most difficult problems together. In our teams, we strive for the greatest possible diversity among the members in order to enrich the cooperation in the long term. A central point in our teamwork is communication, both between the individual team members and within the team.
Further education: Lifelong learning is constantly promoted among our staff. Every member of the Institute is given room for personal development in order to gain interest-based skills and abilities. The acquisition and deepening of professional competence serves as a continuous improvement for a constantly high qualification and ensures the quality of the work in our institute.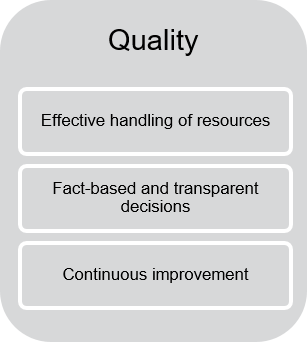 Effective handling of resources: Our institute handles all resources effectively and thus efficiently. Savings and improvement potential is thus fully exploited and contributes to cost reduction and environmental protection.
Fact-based and transparent decisions: Decisions are not only made subjectively, but are based on cause analyses, key figures, data and facts. Both the decision-making processes and the basis for decisions are transparent and comprehensible.
Continuous improvement: We strive from good to better. Therefore, all our processes are subject to continuous improvement based on constant communication with each other and mutual help.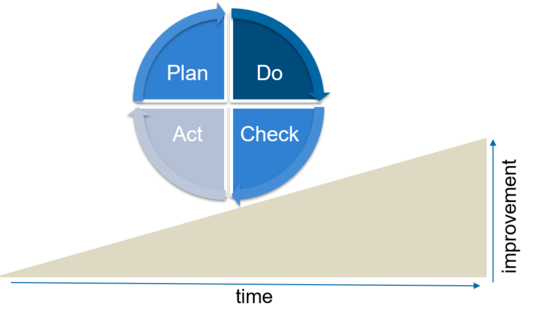 Research Labs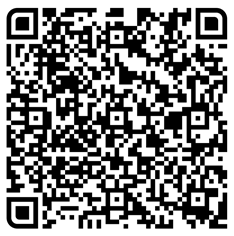 Mind the gut - From diet to neurodegeneration
1st scientific meeting on the topic of the Gut-Brain-Axis
Organized by Felix Felmy, Gemma Mazzuoli-Weber, Franziska Richter Assencio, Christian Visscher, Holger Volk
Where: University of Veterinary Medicine Hannover
When: Monday 20th until Tuesday 21st of March 2023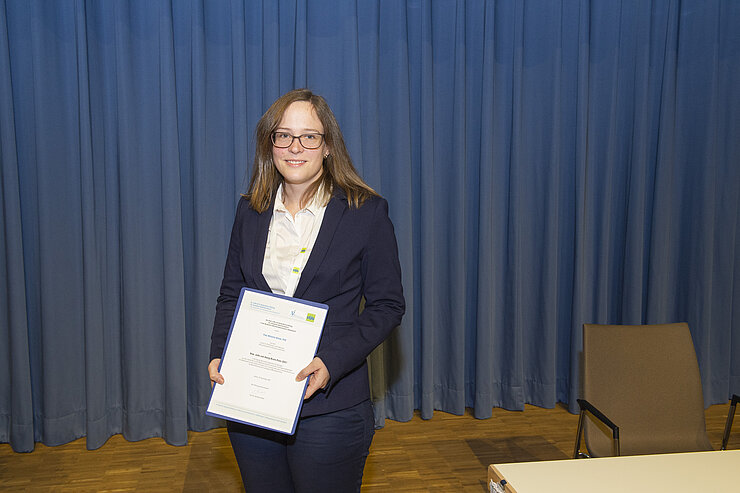 Jutta and Georg Bruns Prize 2021
Melanie Brede, PhD from our institute received the Dr Jutta and Georg Bruns Prize 2021 in recognition of her outstanding research in the field of "In-vitro modeling of the microbial forestomach metabolism, with a focus on investigations into the ruminal microbiome and metabolome and how they are influenced by pathogens Microorganisms "on November 19th, 21st during the DVG-Vet-Congress in Berlin.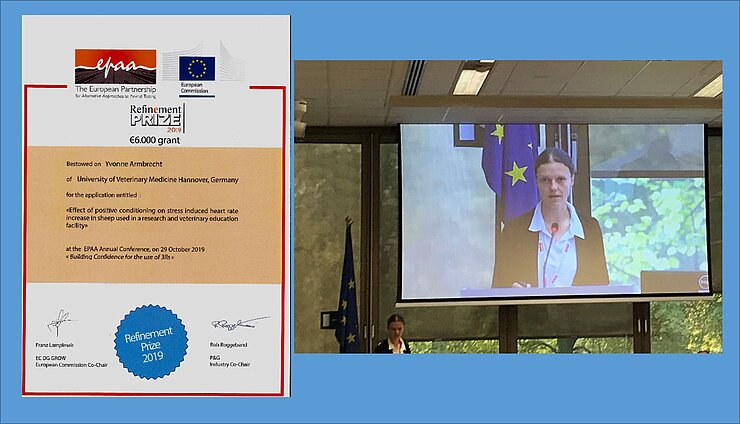 Refinement Prize 2019
Yvonne Armbrecht, our animal caretaker, won the Refinement Prize 2019 of the European Partnership for Alternative Approaches to Animal Testing (EPAA), which is leader in the replacement, reduction and refinement (3Rs) of testing on animals.
Alumni
Prof. Dr. med. vet. Gerhard Breves, Direktor a. D.

Prof. Dr. med. vet. Wolfgang von Engelhardt, Direktor a. D.

PD Dr. med. vet. habil. Mirja Wilkens

Apl. Prof. Dr. rer. nat. Bernd Schröder

Prof. Dr. Gerd Bicker
Contact
University of Veterinary Medicine Hannover, Foundation
Institute for Physiology and Cell Biology
Bischofsholer Damm 15, Gebäude 102
30173 Hannover
Tel.: +49 511 856-7272
Fax: +49 511 856-7687
Institute for Physiology and Cell Biology
Secretary, Dagmar Liedtke
Montag bis Freitag: 8:00 - 16:00 Uhr
Navi-Adress
Schwesternhausstraße, 30173 Hannover
Anreise mit öffentlichen Verkehrsmitteln
Anreise mit dem Auto